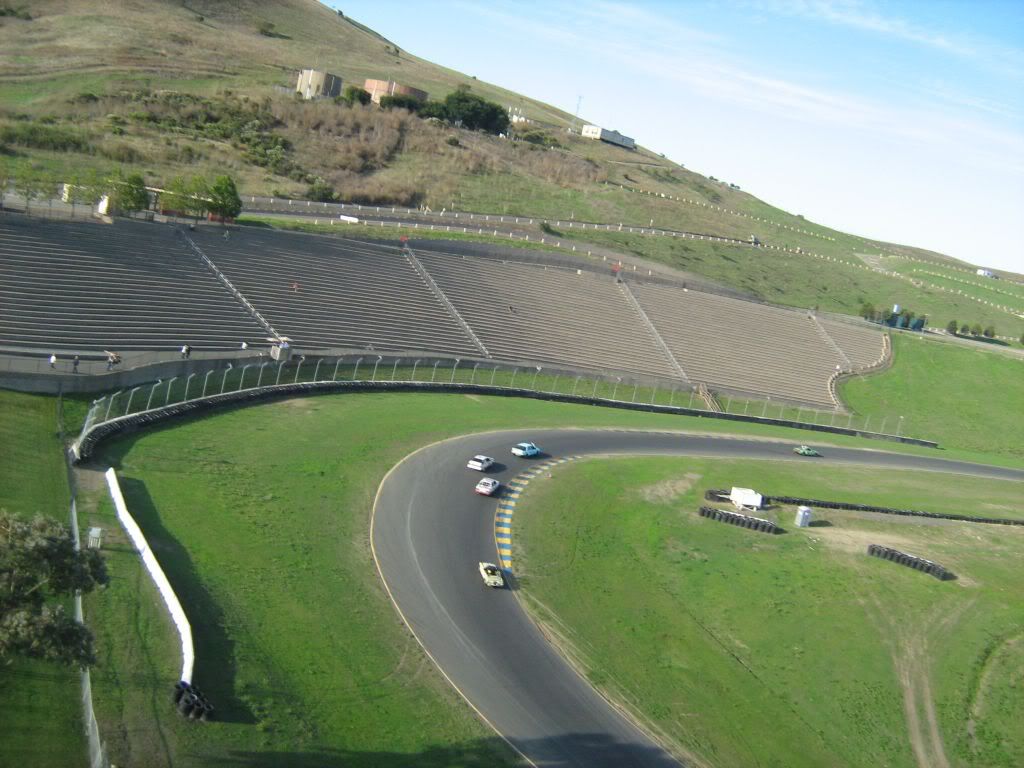 Test day aerial photo with what I think is the MRolla on
the right. (Thanks to MurileeMartin.com for the photo.)
The October 2011 Infineon 24 Hours Of Lemons event was one of the craziest I've raced since Altamont days. 165 cars of questionable qualifications on track, more generous than usual flagging practices, and some intense competition combined for some spectacular action. The forums have be aflutter with debates regarding safety and sanity levels. Personally I was a bit surprised by some drivers failing to ease up for a dead Camaro mid track with cautions flags flying, resulting in a fairly catastrophic rear end collision.
Also, one of the most spectacular roll-overs I've seen at lemons, 5.5x rolls, also occurred.
Before the race. (Thanks to
MurileeMartin.com for the photo.)
We finished uninjured, but did suffer two notable collisions. I've been scrounging for some better pics of the damage we took at Infineon and found a couple shots over at
www.murileemartin.com
that have finally made this post possible. One was a pretty good t-bone from a CRX. We got this very apologetic email after the race: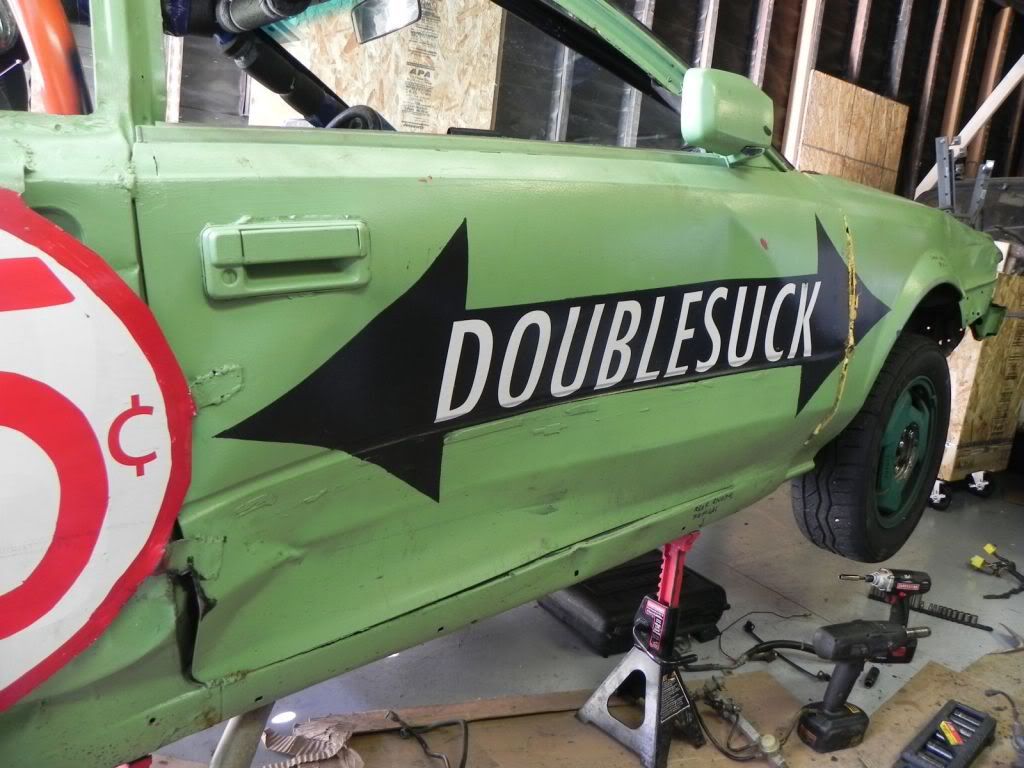 After the race (Thanks
to CRX #3 for the bash.)
"I'm a rookie driver on a rookie team and I just wanted to apologize for making contact with you at Sears Point this past weekend. We had the blue CRX #3. I kept my nose clean the whole race and then with about 15 minutes to go I tried to make an inside pass on the DoubleSuck in turn 9a and our racing lines collided and I caught you in the side. Not sure what happened to you but I spun out because I had my wheels cranked to try to get off you. Took myself to the penalty box, got back out with 8 minutes to go and ran out of gas. It was our teams only contact of the entire weekend and probably my only risky move of the weekend (I mean, other than racing with 160 other crappy cars.) Anyway, again, my apologies. I hope it didn't mess you up too much."
I enjoyed his forum post even more:
"Maybe it is because this was my first ever race. Maybe it was because we were in a pretty slow, bone stock, junkyard CRX and I wasn't trying to haul ass through a crowded field but I didn't mind the crowds. I was also trying my durndest to drive as best as I could, get out of the way, stay on a steady line as best as I could, keep an eye on my mirrors and be respectful as a new person . I was terrified I was going to mess someone else up more than anything (I think I only messed up once, right at the end. Sorry Doublesuck.) But as I got more seat time and tried to learn how to pass a little I found the challenge of passing cars and getting passed by cars without pooping myself (especially when the HardEze or MTGT or Punk car would go flying by me) to be a thrill. Since it is my only race it feels like what Lemons should be. Fast cars having to use skill to get through a bunch of slow cars, slow cars having the sense to watch out for those fast cars and still get some racing on. It was just so cool. And I'm a big chicken. Not a daredevil at all. Biggest worry wart on my team. Soft hands. Public radio employee. And I dug it all. Got fast time for my entire team of newbies. You all have been doing it longer and you may be right but from the perspective of this new guy, I was okay with everything the way it was this weekend."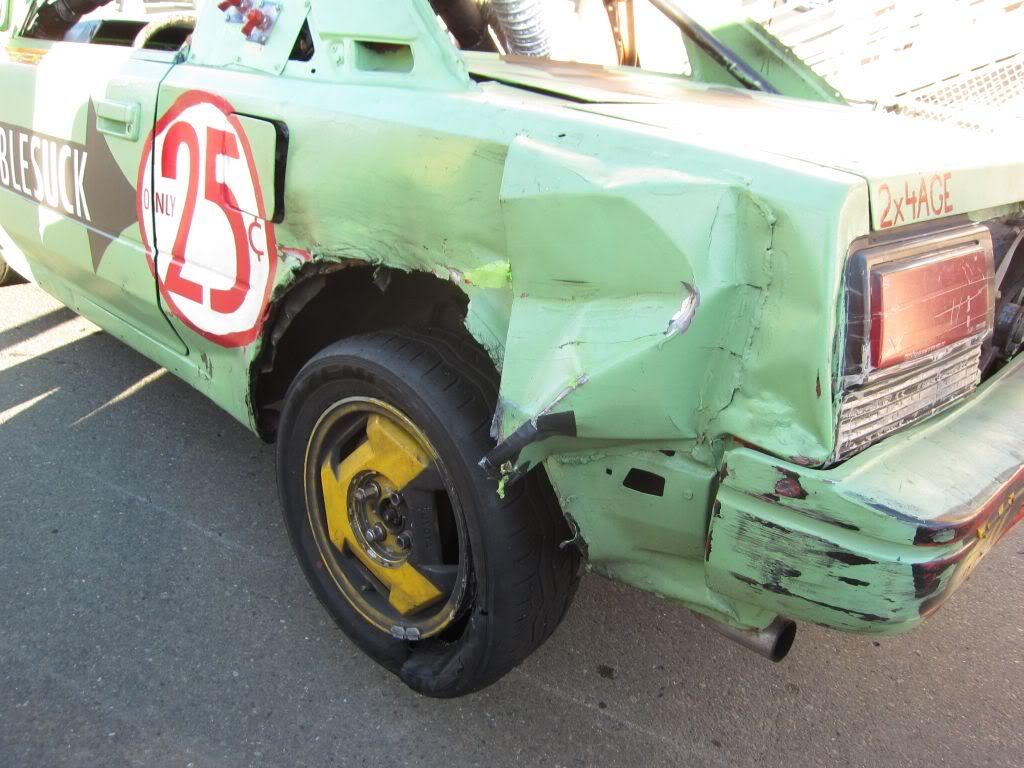 (Thanks to MurileeMartin.com for the photo.)
Also, former
Volatile RAM
teammate Mark Jr came by in the paddock offering beers of restitution. In his Piñata Porsche 928, he lost the rear end on the tracks tightest turn, got sideways, came back across the track, and clubbed our rear end chewing up the wheel. We were towed off, but after changing the wheel and pulling the fender back out we were able to finish the race. The hub was floppy by the end of the race and we've since replaced it.
Some find it frustrating, but I welcome the high intensity levels of a crowded field, and it's great that comraderie outweighs competition in this series.