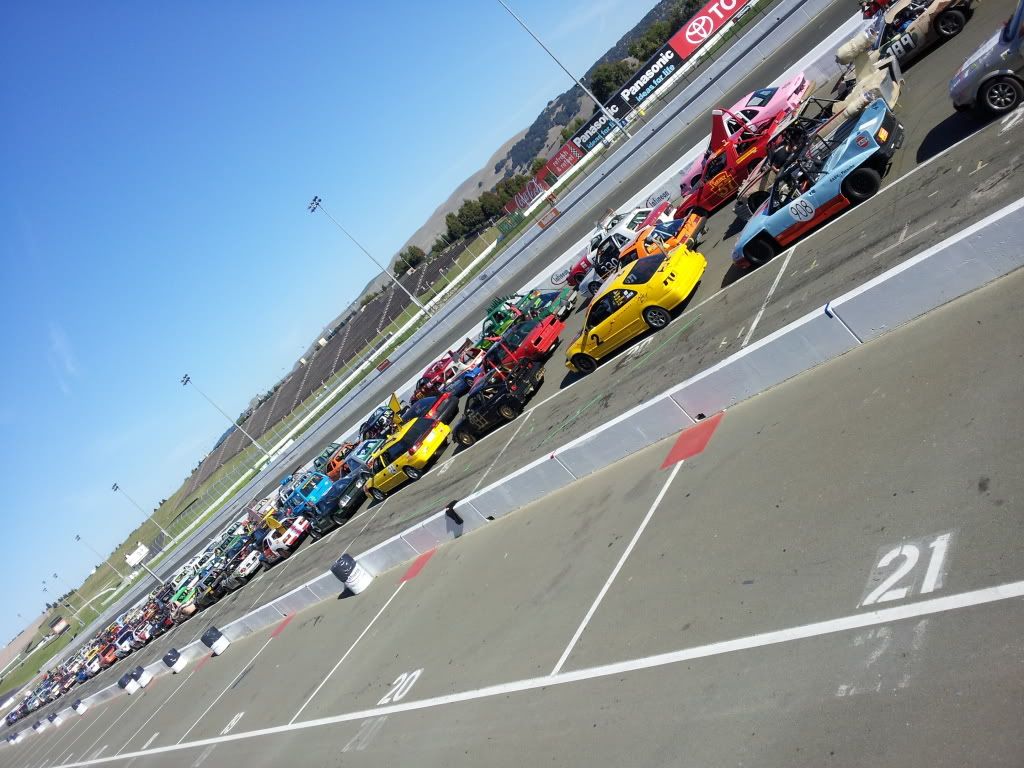 Another HUGE field at Infineon, 164 cars. FUN!
Infineon October 2011: Nutshell version is we blew two rear engines but kept racing on just the front to finish 106 of 164.
We rolled into California early enough to attend the Evil Genius Racing party on Thursday. Evil John was as interested to see dyno results for the MRolla as we were.
On the dyno at Evil Genius Racing.
Front - 97 HP @ 6500
86 ftlbs @ 5250
Rear - 82 HP @ 6300
71 ftlbs @ 5100
Combined : 179 HP & 157 ftlbs.

We also put it on scales:
2810 pounds.
52% front 48% rear.

Drivers were Paul, Judy, Sparky Pete of Killer Zombee fame, and yours truly.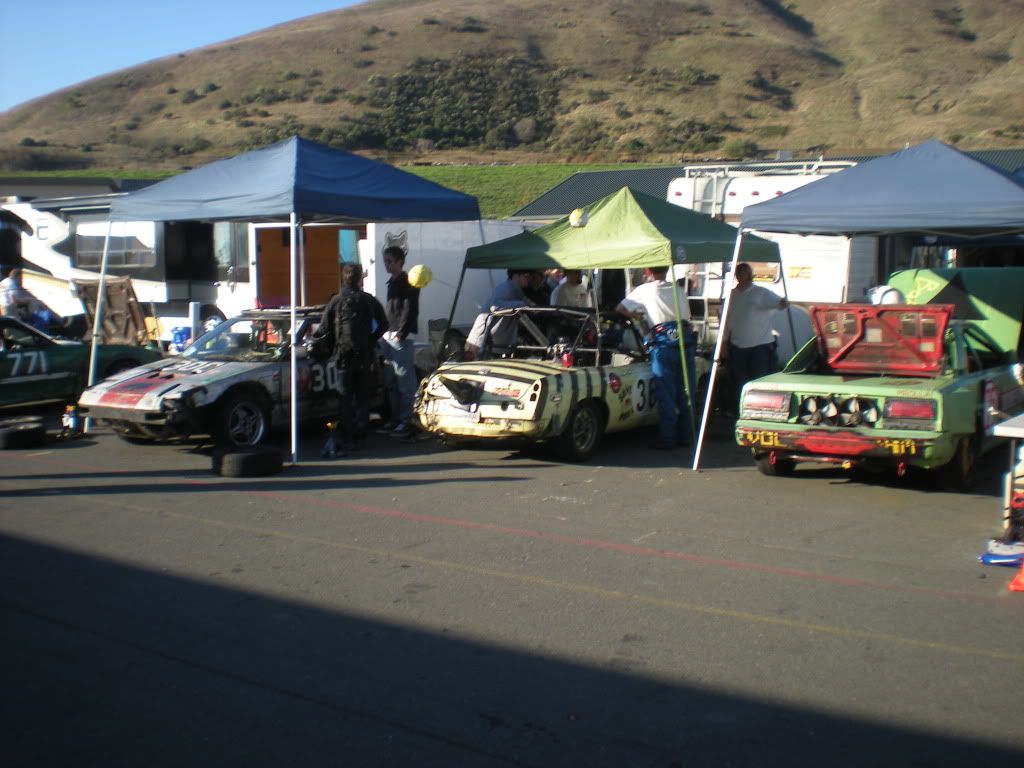 Thanks to Judy Kiel for this photo.
We had a good test/tune day Friday. Dialed in our alignment. The double springs up front made a huge improvement in body roll.
Looking at some photos I think we need to review our tire and pressure decisions. Below is the MRolla rounding the tightest turn on the course on our usual set of 195/50 tires on 14x5.5" stock wheels.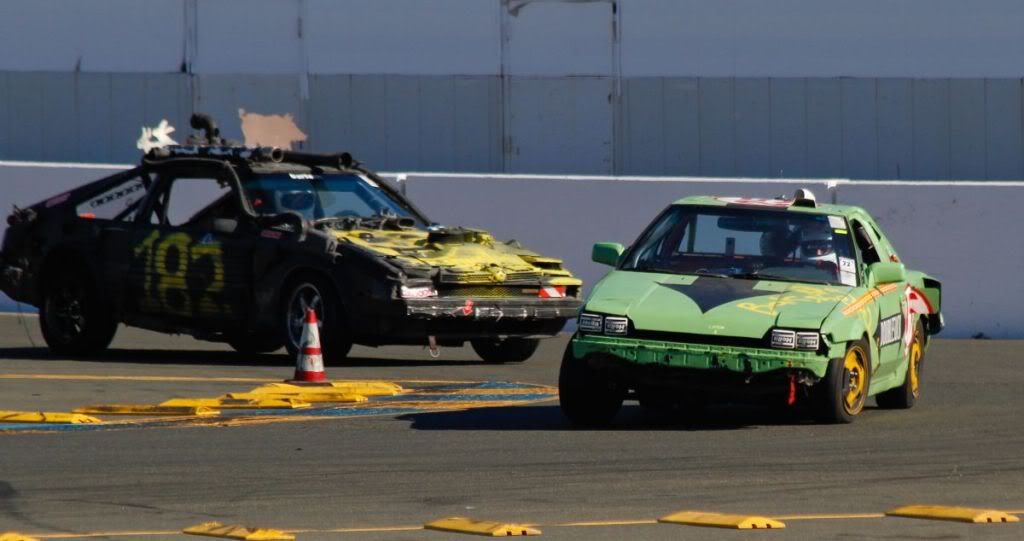 Our friends the Black Flags bearing down. Thanks to Judy Kiel for this photo
Note that the tires look like they are about to rip right off the rims.
Compare to the Snowspeeder's new 205/50 15x6.5" and 15x7" staggered set.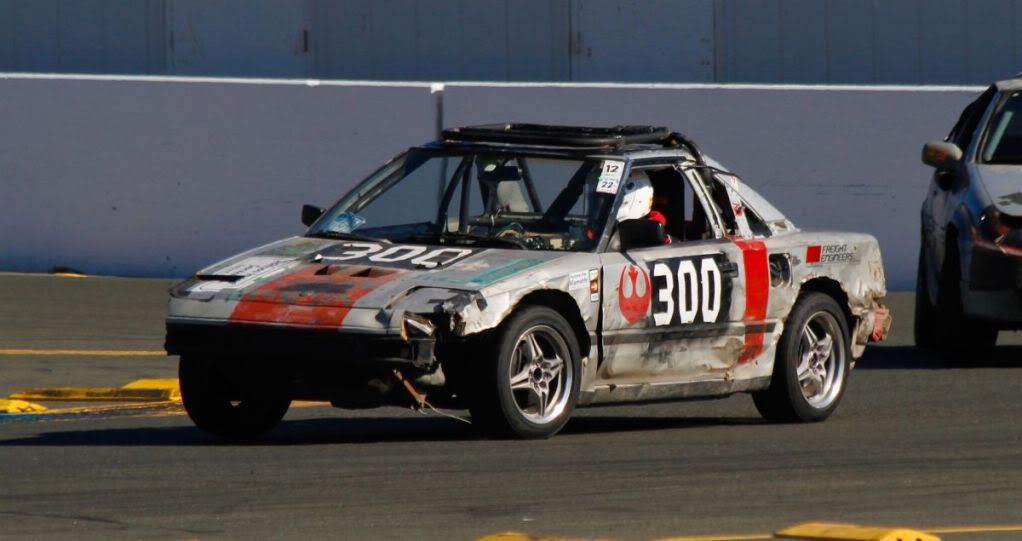 I heart these wheels.

Thanks to Judy Kiel for this photo.
As usual, the MRolla was among the fast cars when it was running on both engines, but we (I) blew a head gasket in the rear. So we disconnected the axles and finished day one on the front engine, swapped the engine overnight, forgot to adapt plumbing for our electric water pump, overheated and trashed the second engine, raced most of day two on the front engine.
Paul and I were at the track until 1:30 am doing the swap. The lack of sleep really fatigued us and the next day was exhausting. I literally couldn't keep my eyes open while I was watching the race and Paul ended up doing a good share of my driving.

We did get smashed into by two other cars. I'll try to get some details and pics of the damage posted later. Also I'll post about some of what we learned bout our transmission system.


Overall we still had a ball and enjoyed all the challenges. Learned much about our car and we can't wait to make another run with the MRolla.